Road to Hana
We woke up around 5:30am Maui time and decided since we were up so early, even before the sun rose, we would do the road to Hana. This road takes all day to drive because of the road conditions but also because you stop often to get out and explore the surroundings.
Our first stop was at Kaulanapueo Church. This church was built in 1853, is still in use and is an example of a 19th century church.
Our next stop was the upper Puohokamoa Falls. There is a place right next to it called Garden of Eden that is an botanical garden. The owner of the garden built a wall by the bridge so that you can't hike to the falls and you would have to enter in his gardens and pay. Well, we took a trial that locals have made on the other side of the bridge and it was an adventure. The first part of the trail was pretty steep and a little slippery. Once down to the stream, you begin your hike/crawl up the rocks to see the falls up close. Most of the rocks were slippery and I fell and hit my bottom hard. I knew I would have a bruise and sure enough later that day it appeared! Well after the fall and the adventurous climb up the ricks we had made it. The falls were beautiful and I am so glad we did this hike together. Going back was easier now that we were both used to climbing and maneuvering around these rocks.
Our next stop was Ke'anae Peninsula and Village. We stopped at Aunty Sandy's from some banana bread and it was very good!Then we went to view the ocean beating against large lava rocks in the water. We saw 2 black crabs along the rocks but once we got close to take their picture they scurried off.
Then we went to the tiny settlement of Wailua. This community is mostly built around taro growing but you get an amazing view of the Waikani falls which drops 1,000 feet.
Our next adventure was at the Pua'a Ka'a State Park. There is a waterfall that you can see on the path, but if you get off the path go through the falls and across the other side there is a trial that you can take to another waterfall and pool. This path was very muddy which meant very slippery, but not as slippery as the rocks! Once we got to the top of the trail we had to walk over a water viaduct. We had to look straight ahead because looking down threw your balance off because of the water moving below your feet. Once over the viaduct there was a small climb and then you saw the beautiful waterfall and pool. This was definitely worth the hike and adventure.
We stopped at the Wai'anapanpa State Park. We paid, pulled in and then had to pull over before getting to our parking place for me to throw up. I am not sure if was due to getting car sick, not eating enough, the head ache I had or just being pregnant. But after I threw up I was good to go! We parked and hiked to the black sand beach. Our shoes filled with tiny black lava rocks which took us a few big waves to get out. There was also a cave that we ventured into for a beautiful view.
Our next stop was the town of Hana. We made it! We stopped at the Hana Ranch House Restaurant for lunch. I knew I needed something to eat but I got sick again before our lunch made it to our table. So this was throw up number 2 on this trip on the Road to Hana. Our lunch here at the Ranch was amazing. We both had burgers and fries and they were very tasty!
The Seven Sacred pools was a very fun stop we made. The water was very chilly when you first got in, even just your feet to walk across the rocks. But, I wanted to get in these pools. I slipped on the way in and couldn't see all too well, but the water was clean and very soothing. It freaked me out at first because I couldn't see the bottom or where I was stepping and for whatever reason freaks me out. But, I got in and loved it! Brandon didn't get in all the way and I gave him a hard time because of it. It was pretty chilly but after awhile I got used to it and it was nice! These fresh water pools and falls go right into the ocean and so we check out the shore line to where these pools end. The waves on the shore line where pretty big and apparently Grey sharks lurk these waters. So no swimming was done here.
Once we were done with the seven sacred pools, we stopped at a few other falls and spots along side the road to take pictures. It was interesting because once we got to the south east side of Maui the landscape and terrain changed. There was no more lush green plants, flowers and large trees. Instead you saw sand, very few green plants, rock and the side of the volcano. Part of this road, actually 10 miles of this road was pretty rough. The hole road was covered in pot hole patches and the top speed we could reach without shaking our brains out was 10 miles per hour. This was a long stretch of bumpy road but the surroundings made up for it. Somewhere along this stretch home, I threw up for the 3rd time. Even though I got sick throughout the trip, you just can't help but see God's beauty all around you.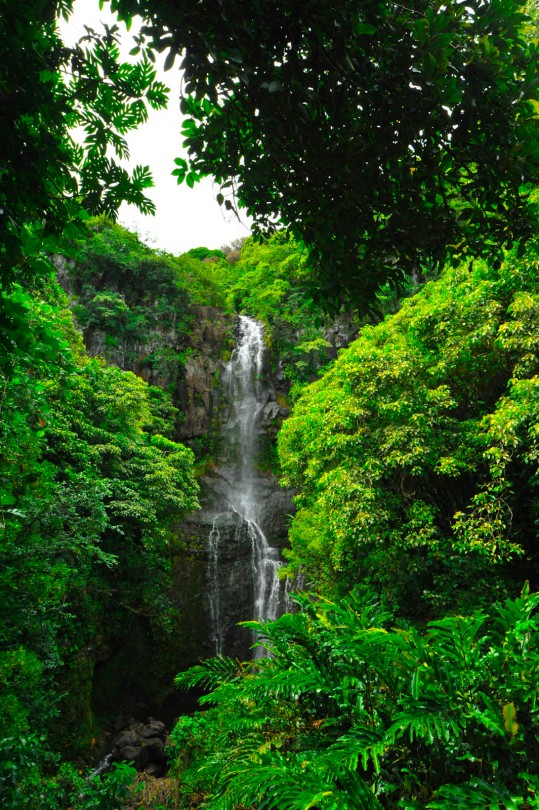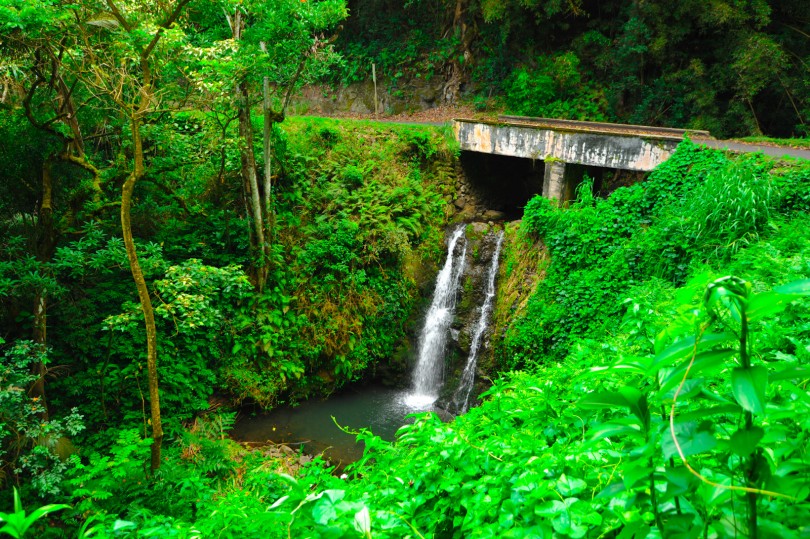 This whole trip along the road to Hana, was very fun and I am so glad Brandon rented a soft top jeep for us to drive around so we could have the top down and enjoy the air and everything around us. It did get a little chilly a few times where i had to put a towel over my arms. Crazy to think in August you get cold, but it sure was nice! it rained a few times as well, one time we did have to put the top on but the other time we just enjoyed it!
Once we got back from the road to Hana, we went into Lahaina for dinner. We ate at Bubba Gump Shrimp Co. Which I think is such a fun restaurant even though it is a chain. I had my sea food meal for the week here, Coconut shrimp and Brandon had the fish and chips! We had a pretty late dinner because we were gone for so long so after dinner we just headed back to the hotel to crash!
No Comments
Leave a Comment