Our final day in Maui
Yesterday we visited Honolua Bay and today we get to explore in it! You have to be pretty careful getting into this water because there are rocks everywhere, and they are big and slippery! You have to snorkel pretty far out to reach the far right reef but once you are there, the swim is worth it!
At one point we saw a huge bait ball. We were in pretty deep water and the sun was being covered by some clouds so even though you could see, it wasn't the best clarity! We have watched shark shows and I was worried that something was chasing and eating on that bait ball and the only thing I wanted to do was swim away from it and get to the reef.
We made it to the reef and I had not seen so much reef yet. It was everywhere and just beautiful. We again saw another sea turtle and many many fish. After snorkeling for almost an hour we were heading back slowly just checking everything out and Brandon ran across an eel sticking out of some coral. We watched him from for awhile but kept our distance. These things are creepy!
After Honolua Bay we went back to our hotel. Brandon wanted to jump off Black Rock before we left so today was the day. I got in the water to take video and didn't get many pictures. It took him awhile to get to the top because later I found out the rocks were sharp and killing his feet. He finally made it and then jumped! It was exciting and fun to watch him!
When then packed up and checked our luggage at the hotel. We laid out by the pool, got in to cool off and just relaxed. We had almost a couple if hours to just relax before we had the complementary room to take showers and get ready to head out for dinner and then to the airport. While we were at the pool, they were having a class were you could make your own lei. So I made my own lei and it was beautiful! For lunch we walked over to Whalers Village to do our final shopping and ate at the Hula Grill.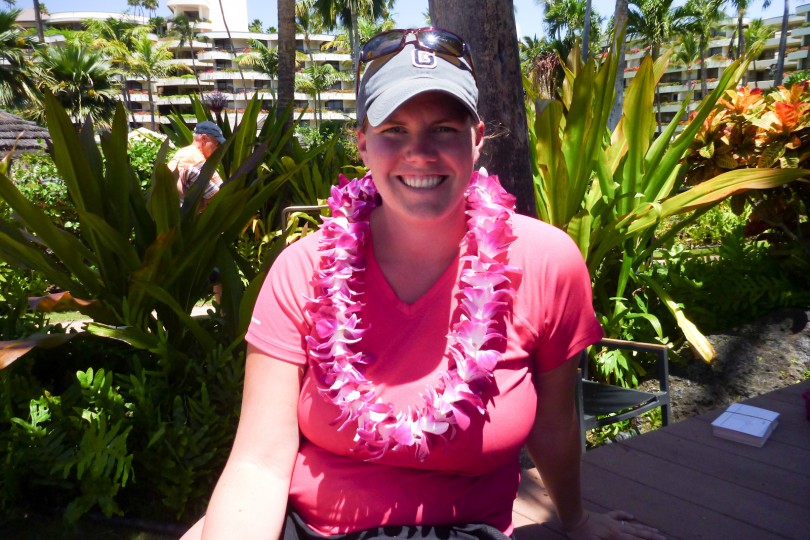 After we got cleaned up we went to Lahaina for the last time. We just had time for dinner then had to head to the airport. We ate dinner at Cheeseburger in Paradise and both got the Cheese burger in paradise burger minus the thousand island dressing. The burgers were delicious and I loved the grilled onions on mine!
It was sad to leave but at the same time we were so excited to get back home to see Brooke. I sure did miss hugging and kissing her! We had a wonderful trip and are so blessed to have had this opportunity to have a week in Maui!
No Comments
Leave a Comment