A Horse of Course
So Brandon and I have been talking about getting a horse for some time now and decided to start looking for one. I knew I wanted an Arabian horse just because I knew that I would want to get back into showing if at all possible.
We found a horse we both really liked and went out to look at him and have Brandon ride on Monday. The horse looked great in warm up and with the owner riding him. When it was Brandon's turn, he hung on for about 4 bucks then got thrown into a wall. Obviously, this horse wasn't for us and we left disappointed. When this happened it scared the heck out of me because the horse ran straight for the wall and all I was thinking and yelling was "Oh babe" and maybe a choice word. I was scared for my husband and just wanted him off. He was off quickly and was not hurt. Brooke watched this whole thing too and was very concerned about her daddy. We kept it positive though and told her the horse just didn't like Daddy. We didn't want this to be or put bad thoughts about horses in her mind.
The rest of the week, we just kept looking online for other horses and found several to go look at. We found 2 out in Weatherford and decided to go check those out. When we got there they actually had 3 to show us and the last one is the one we truly fell in love with. The first 2 were nice but the third one we just couldn't walk away from. He was gorgeous, sweet and Brandon said he rode really nice. Brooke got to ride as well and in fact rode one horse for about 30 minutes with a lady who rides out there. They were all so nice and Brandon and I were excited about finding a horse that worked for us. When Brandon got off the first horse, Brooke said "Daddy, you didn't run into the wall." It was quite funny and we all had to laugh.
So needless to say, we bought oursleves a horse named "Cash" and got to bring him home to the barn we are keeping him at today. He is absolutely gorgeous, we all 3 love him and cant wait to ride him and get him back into showing. Brooke is so excited she has a horse now and loves to feed him treats. He is so good around her and she is getting more and more brave around him.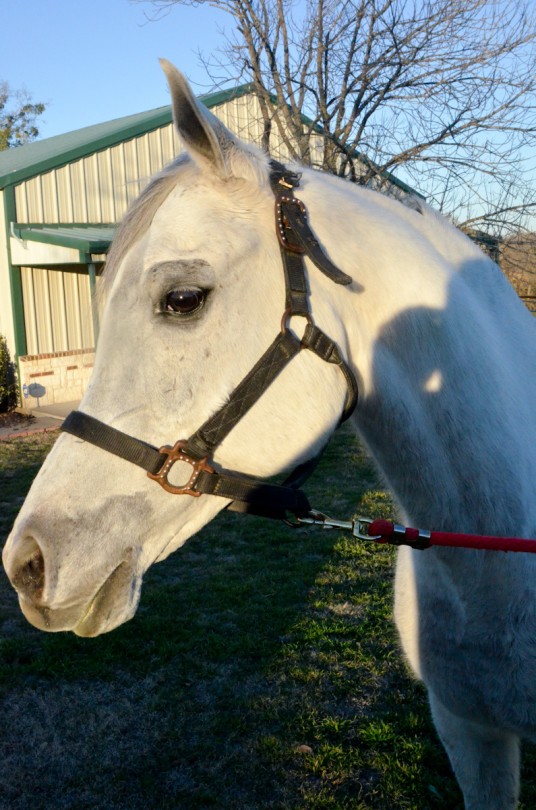 1 Comment
Leave a Comment