Christmas Morning
I think I was just as excited as Brooke was, if not more for Santa to come this year. Brooke has been really into it and understood it more this year. We of course explain what Christmas is truly about and read the Christmas story to her and anytime she had the opportunity she would tell you that Christmas is really about Jesus.
Once the kids went to bed, Santa came to visit our home, ate her two cookies she left out, drank the milk and left some pretty awesome gifts for the kids! Luke woke up first so I went and got him out of his crib, went and woke daddy up and then went into Brooke's room to get her. She was moving around but hadn't got out of bed yet. I was so excited to see her face when she came around the corner and saw that Santa had come!
Brooke was so excited that he ate her cookies and drank the milk. She really thought that was the coolest thing ever. She then stuck her head in her Santa bag to see what he left her. She asked Santa for a sewing machine (yes a real one that works) and a soccer ball. She then wanted to see what Santa brought Luke so we let her take the presents out for him. Brooke also loved her stocking and all the goodies that were inside!

Brooke and Luke had such a great time opening presents. Luke loved his teddy bear and hugged it immediately after it got out of the bag. He is such a sweetie. He also loved his toy cars and really everything he got. He just went from toy to toy. Brooke wanted to open every gift right after the paper came off of it. She was so excited about everything she had got!
When Daddy and Mommy opened our presents, Brooke wanted to help. She knew which presents were mine and which were Daddy's. She gave Daddy the present she picked out for him, wrapped and put under the tree. She was so excited to show him what she got for him. Her wrapping cracked me up but I thought it was the sweetest thing ever! Daddy surprised Mommy with lots of gifts and I loved everyone of them! Daddy got some cool stuff too, with a few surprises thrown in there that Daddy didn't know about! We had a wonderful Christmas morning and are truly blessed!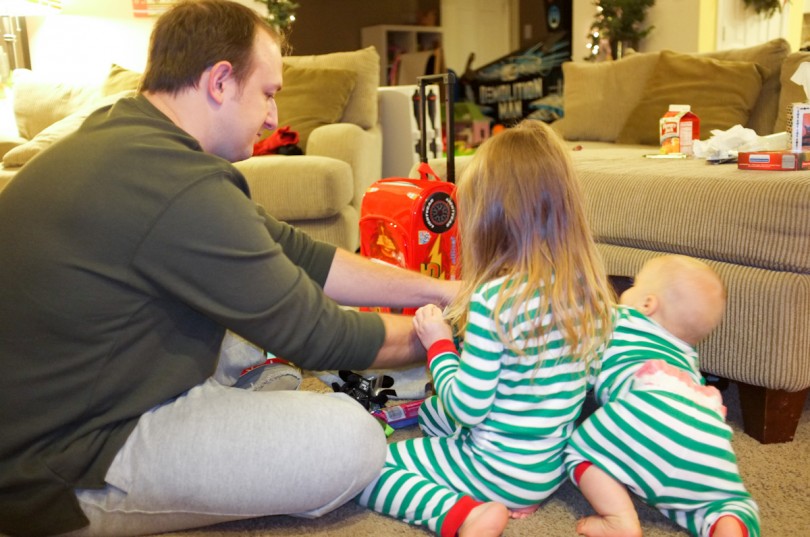 1 Comment
Leave a Comment