15 years ago…
Today 15 years ago my life changed! Here's how…
I was a sophomore in high school. Got up on February 12th, 1998 and got ready for school like any other day. I remember sitting in the recliner in the living room as my dad walked past me and said we are about to leave and I did your job, meaning he fed the dogs. I laughed, said thanks and finished my cereal. My dad was a funny man who made me laugh all the time. I was a daddy's girl and we loved to laugh together, pull pranks on each other, give each other a hard time, rough house, and just have fun. We then got into his white Nichols Scale company truck and dropped me off at school. I remember seeing him driving away but never thought that was the last time I would see him.
This was a Thursday, and on Thursdays my mom volunteered at my high school in the afternoons. We had 7 class periods and while I was sitting in my English class the phone rang. I looked up because her phone rarely rang. Mrs. Bose held the phone up to her and said very few words then looked at me. I was curious as to why she looked at me, but as she hung the phone up she said "Autumn, you have early release." I knew my mom knew better because if you didn't miss any classes you didn't have to take your final exams. She knew to only take me out in 7th period and since this was 6th period I knew something was wrong.
I grabbed my backpack, ran down stairs and went to the office. I found my mom on the phone in Mrs. Sales office. I knew something was wrong when I saw my moms face and asked what was going on. My mom then told me "Dad had a heart attack, lets go." I remember from that point, we left the office and both ran as fast as we could down the hall way to my moms van. We got in the car and she began to drive fast. We had to go to a hospital about 30 minutes away due to where my dad worked. On the way to the hospital, my mom had me call the hospital to see how my dad was doing. I called and they said "Are you on your way?" I said yes and then they said "just get here safe and as quick as you can." I said can you tell me anything and they kept repeating the same thing. At that point, I had a peace come over me and knew I would be OK but knew my dad was gone.
We had to drive around to the back of the hospital where the ER was. There was construction going on outside and men carrying poles as we were running frantic. It felt like our world was at a stand still but everything else around us was in fast forward and normal. As we went inside, there was not a sole in the waiting room. Even the office was empty. I knocked on the glass window and a nurse came around the corner. I told her we were Brooks' family and were here to see him. She asked us to walk through the large door then go to the first left into that room.
As we walked into that room, it was an empty exam room. There was a empty chair sitting just inside to the left of the door and my mom sat there and broke down. She began to cry like I had never seen her cry before and had her head in her hands. I didn't know what was going on because nothing had been said to us. Just seconds later a doctor came in and said "Mrs. Ethridge, I am sorry we tried everything." My mom stood up, grabbed the doctor's white coat, shook him and cried "why." He then embraced her and just held her as she wept. I will never forget this moment and the pure pain and grief that filled that room. I sat on the exam bed, in shock, in pain and in tears. I knew though at this point, I had to be strong for my mom.
The doctors and nurses came in to ask some questions. I had to answer them because my mom just couldn't talk. I can't explain how I knew some of the answers to their questions, such as my dads social security number but answers came to me and I just answered what they needed to know. God truly intervened and was in control the whole time. The doctor's then told us whenever we were ready we could go and see my dad. He was straight across the hall through the office that separated us from him. While we took some time to process this, I had to take 2 phone calls, one from a dear friend Deann, a teacher at my high school and one from a neighbor friend. I told Deann, dad had passed away and we would be home in a few hours. She then told me she would go to our house and straighten up and just be there when we got home. Again, I don't know how I talked on the phone without losing it but again, God was in control the entire time.
After some time had passed, I asked my mom if she was ready to go see dad. She said yes and I led the way to where dad was. The doctor warned us that my dad had a tube sticking out of his mouth due to them trying to revive him. We walked in and seeing him lay there lifeless was the hardest thing I had to face. My dad, my best friend would never be able to hug me, kiss me, talk to me, take me to school, be at my high school/college graduation, my wedding or see my kids. All my emotions and future hit me hard as I saw him lay there. My best friend, my daddy was gone. I then said my goodbyes, kissed his forehead, touched his hands and said I love you as I walked out of that room. I then told my mom I was going to step out so she could have time for herself to say her goodbyes.
Once she was done, we left the hospital and headed home. This was the weirdest and most quiet ride home I had ever had with my mom. I think the only thing that was said was when she asked me, "What are we going to do, you are 15 and your dad has just passed away?" All I could say is, "Mom, we are going to be ok." I had a huge peace that what I said was true and I just had to live by faith. Once we got home, we had a couple friends there and all I could do was sit in the recliner in silence. Every time the door opened I looked to see if it was my dad, but never was it him. I knew I had seen him laying in the hospital bed lifeless, but my mind just hadn't accepted that he was gone.
My youth pastor and great family friend David Griffin came over and took me outside. I remember him taking me out in the middle of our front yard and asked if I was mad at God and wanted to yell out. I said no, I wasn't mad at God because I knew he had a plan. I didn't know the plan but knew I just had to trust in the Lord. David shared with me James 1:2-4 which says: "Consider it pure joy, my brothers and sisters, whenever you face trials of many kinds, because you know that the testing of your faith produces perseverance. Let perseverance finish its work so that you may be mature and complete, not lacking anything." I knew from that point on I had to consider what I was going through joy. Not knowing God's plan for me or my family was tough but I had to consider it joy. Sure I was in a lot of pain, sure I was missing my dad and best friend like crazy but again, I had to trust God and consider it joy. I knew my family was going through a trial and our faith was being tested but I also knew because of God's word, that through perseverance, I would have joy and His name would receive glory through this pain and trial we were going through.
My dad ended up passing away from a heart aneurysm. The main artery to his heart got a blood clot in it and killed him instantly. At this point in my life, I had never been to a funeral, much less experienced death. I didn't know what to expect and didn't know how everything with funerals worked. Again, God provided amazing people to walk through this process with us and helped us tremendously. Our next door neighbor who had just moved in a week or two before my dad's death came with us because she used to work at a funeral home. We also had my youth pastor come and Janna, a friend from church who had just gone through this process from losing her husband. We were blessed and surrounded by friends and this truly is the only way we got through the planning process.
The visitation was tough. Seeing my dad's family and friends hurt and in pain was tough to go through. It was emotionally and physically draining but at the same time reminded me of what kind of man he was and how great my dad was. People we didn't know were showing up to pay their respects and would come up to my mom and I to tell us how they knew my dad. My dad made connections with people everywhere he went. People from gas stations that he stopped at, came by because of how nice and friendly my dad was to them every time he came in to get gas or coffee. This reminded me of how my dad lived his life to the fullest. He loved people and just loved talking. He would do anything for anybody and would never expect anything in return. He was a genuine friend and a man you could count on. It encouraged me to be like him. I wanted to be generous, friendly, kind, have a servants heart and just have a desire to connect to people just as my dad did. He truly embraced all these characteristics and to see people we never met come to pay their respects to my dad spoke volumes to me.
I knew the funeral would be hard because again, I had never been to one. My dad's funeral would be the first one I would attend. I asked my pastor David to sit by me so he could tell me what was going on. During the funeral, I just wanted to know when they would open and close the casket. I wanted to know when the last time they would close it because that meant it would be the last time I would see my dads body. I knew his spirit was in heaven but to never see my dads face again was something I didn't want to happen. For 15 years and 5 months I saw my dads face almost every day and after today I would never see it again. I loved that face, those hands, his voice, his hugs and kisses. I just kept my eyes on my dad the entire time.
We then laid my dad to rest while a 21 gun salute fired off, a flag was present to my mom and a song was played by bagpipes.
February 12th, 1998, my life changed but from that day on, God used me in ways I never expected nor planned. As I type this today, so many things have happened. I can say I am blessed, not because of my dad's death but because of how he used my dad's death! I got to be baptized with my mom on a Easter Sunday, see my mom become a stronger Christian woman who loves, seeks and serves the Lord every day, share my story of faith with other teen girls that have had their dad pass away, marry a godly man who reminds me of my dad and has become a father himself and have been able to see my own children love their daddy like I loved my daddy. The list could go on and on about how the Lord has blessed me since my dad's passing but He also blessed me with 15 years with an incredible dad who I miss everyday, loved very much and taught me to be a better person and to live life to the fullest. I miss you daddy!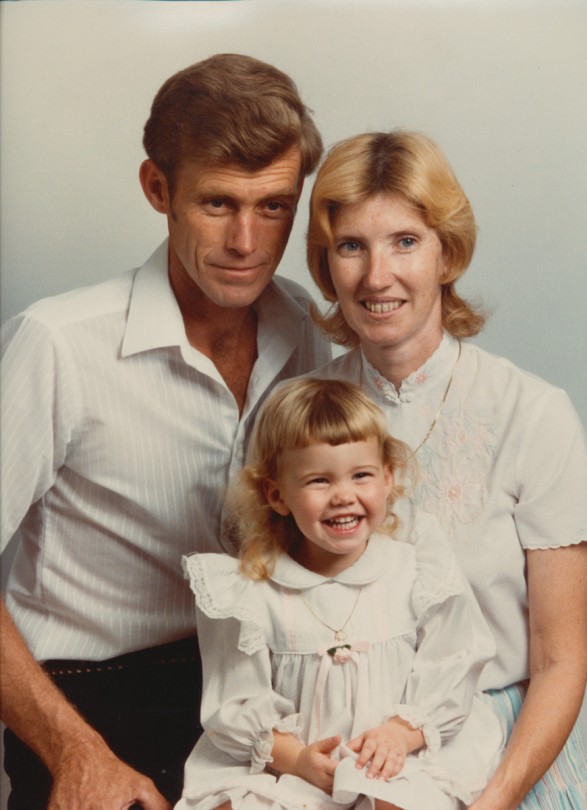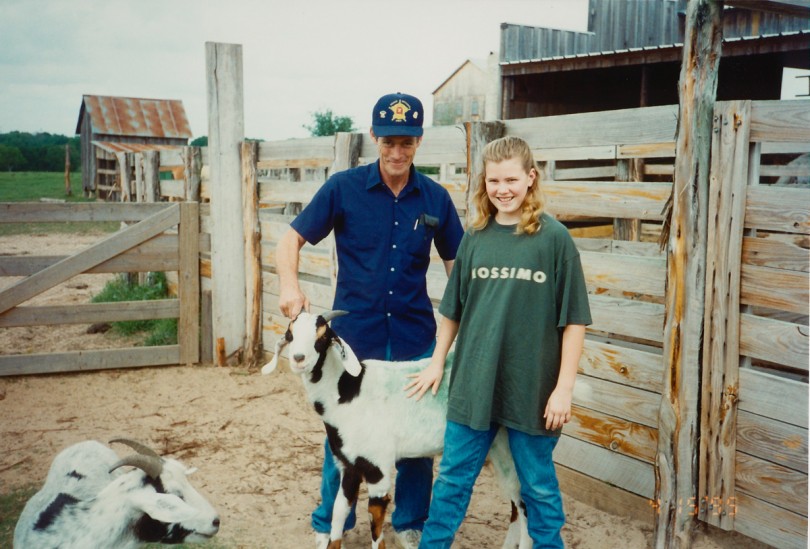 3 Comments
Leave a Comment