Disney | Day 2
Our day started off with us at Hollywood studios. I really like this park and enjoy my time here. The rides and characters here are always some of my favorite! We all got to ride Toy Story Mania. Luke rode in my lap and we did pretty good on the game! We also rode the Tower of Terror. We had a fast pass for this ride and decided it would be fun to take Brooke on the ride with us. Brandon and I took her and she was a little scared from the decor but we reassured her that it would be fun. As soon as we sat down on the ride, she had a death grip on Brandon's arm. Our picture from the ride shows this perfectly! Once the ride was over, she told us that she did NOT like that ride and would not ride it again. I am glad she rode it once and we have that memory, even if it wasn't a great one for her!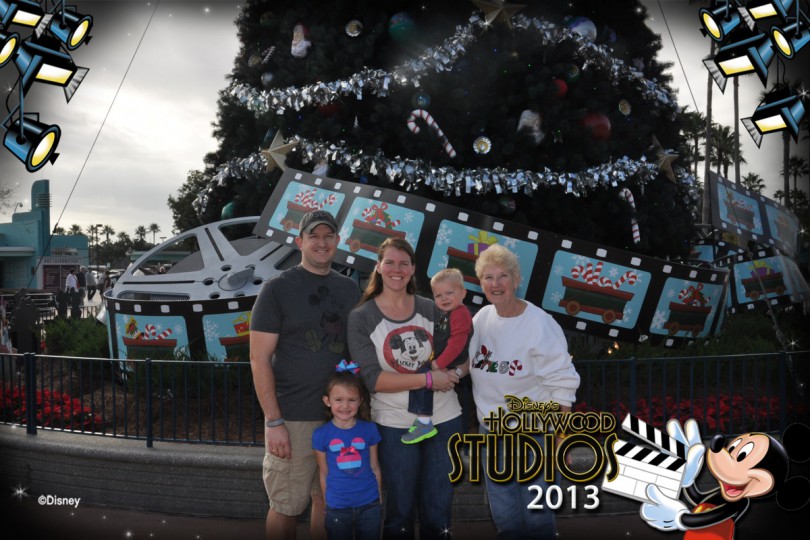 After a few rides, we had reservations at Hollywood and Vine to eat with the Disney Junior characters! The kids got to meet and dance with Jake from the Neverland Pirates, Special Agent Oso, Annie from Little Einsteins and Handy Manny. Luke and Brooke absolutely loved dancing and singing to the Disney Junior songs. Jake was Luke's favorite and Luke would say "Yo Ho Ho." When the pirate song would come on Luke would stomp his foot, say Arrr and yo ho ho. I think this was his favorite thing the whole trip! After lunch, we did some shopping and man do I love that you can have the gifts taken to your hotel! We didn't have to carry one single bag around and that was just awesome!
That evening we all went over to the Magic Kingdom! By the front gate, you can meet Magic Mickey Mouse at the Town Square theater. I wish we would have caught this character greeting on tape because it was by far the funniest thing I have ever seen. Brooke of course loves every single character and goes right up to them, hugs them and starts talking. Luke, however, says he is going to hug them and walks 2-3 steps towards them, then turns and runs away. Most of his runs have him yelling "No." too. He was cracking us up. He had no problem being by them though if Brandon, my mom or I was with him though. With Mickey, he eventually warmed up and gave high fives and even hugs. During the hug, mickey made a kiss noise and kissed Luke's head. Luke did NOT like this and told on Mickey to Brandon. He gave a potty face and all and was not happy. We all, even Mickey, thought this was so funny. We had such a great time with Mickey. There was no one behind us, so we had lots of time with him and got great interaction with Mickey! This was one of my favorite character greetings!
For dinner we ate at cosmic rays. Ya know you can't go on vacation without having a good ole burger and fries! After that, we rode a few more ride, met a few more characters then went back to the hotel to get the kids to sleep. My mom was awesome and let both kids sleep with her so Brandon and I could go back to Magic Kingdom since they were staying open late that night! We got to ride several rides, share a cupcake from the Cheshire Cafe. Seeing Cinderella's castle covered in Christmas lights is just breath taking! It truly makes you feel like magic is happening and you are right in the middle of it!
Once we got back from the hotel, I went and got Brooke and put her in our room. I know this sounds silly, but I wanted her to wake up on her birthday to me and Brandon. I wanted to be the first one to hug and kiss her and wish her a Happy Birthday! So we got back late, got Brooke in our room and crashed! It was a fun filled day!
No Comments
Leave a Comment