Disney | Day 3
Today, is Brooke's 5th Birthday so we had a lot of fun things planned! When Brooke woke up, I hugged and kissed her and said Happy Birthday. She then with a huge smile on her face asked, "How old am I." I love that she was excited to be 5 and begin our day celebrating her! We started off by having a character breakfast at the Beach Club resort. We go to see Minnie, Goofy and Donald. They were dressed in their beach attire and were so much fun to interact with. When Goofy got to the table, Brooke asked him where his hat was and he looked under the table and was in shock it was missing. She loved it and I love how the characters play along with you! After breakfast, we went back to Magic Kingdom and rode It's A Small World for my mom. She loves this ride, and it was going to be under refurbishment, so today was her only day to ride it! The kids really enjoyed it too!
Magic Kingdom is so much fun and seeing the kids faces light up and having so much fun is so much fun! Luke could ride a lot at Magic Kingdom and had just as much fun as Brooke did! Brandon and I took Brooke on runaway Mountain and got a parent pass so my mom and I could take Brooke again. When we got off, Brooke said she didn't like it, but I convinced her to ride it again, so Nana could ride it! She said yes and when we got off this time, she loved it and kept wanting to ride it! This and Splash Mountain became her favorite rides! Brooke, Daddy and I rode the tea cups! I love this ride and even though it makes me dizzy, I love spinning it super fast! Once we got done with the tea cups, we got to meet Alice and the White Rabbit! Tomorrowland Speedway is one of my favorite rides as well. My dad and I would ride this together when I was a kid and I will always remember that! Brooke rode with Brandon, he of course let her drive! Luke rode with me and yes he drove, but needed my assistance! My mom had her own car and was right behind Luke and I.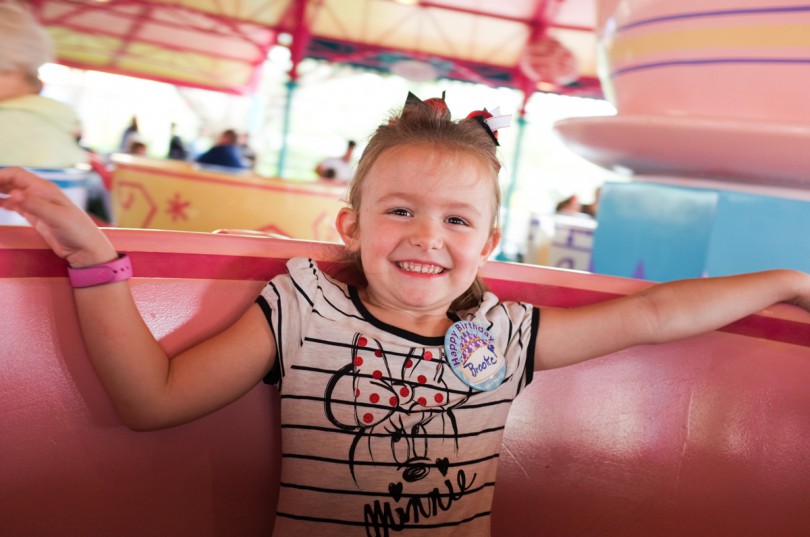 After we has spent some time riding rides, it was time for Brooke's next Birthday surprise. We bought her a Cinderella costume and she got all dressed up for lunch! I had made reservations to eat at Cinderella's castle and Brooke was so excited. She couldn't wait to meet Cinderella and all the other princesses! When we got to our table, Brooke got a wand and Luke received a sword! This was a fun Character experience and a special one to celebrate Brooke's 5th Birthday!
We enjoyed so many rides at Magic Kingdom. The kids loved the carousel and before we left to go grab some dinner we waited in line for the Jingle Cruise. As we were waiting, Brandon had leaned over the rail and said to me "wild animal." I thought it was a squirrel because all day Luke was fascinated with the squirrels around the park. I turned the corner only to see a huge black thing flying towards me. I screamed for my life and then began to laugh so hard. What had really happened was, a man who worked for Disney was working on the ride, and Brandon jokingly said "wild animal" me thinking it was a squirrel, I did not expect a man. The even more funny part is the Disney worker acted like he being scary and then tripped on some bamboo. This is when I turned the corner. Right at the perfect timing, he was waving his arms up high and then tripped as he came launching at me. We all 3 were laughing so hard. I then got some what embarrassed at my reaction. Oh well, it was the funniest thing ever and a memory I will never forget!
We then headed over to the beach club to eat dinner at beaches and cream. THey had a dessert Brandon and I wanted to get Brooke for her birthday called the kitchen sink. A few people had ordered it while we were there and we decided we were so full that even 1/4 of it would not have been eaten. Brooke, hwoever did get a cute mouse ice cream for her birthday! The food here was great and a place that for sure will be eaten at again when we come back!
No Comments
Leave a Comment