Luke's 2nd Birthday Party
Luke loves the cartoon Jake and the Neverland Pirates. He isn't much of a sit down and watch T.V. kind of kid but this show catches his attention! When we were at Disney World, we ate breakfast with Disney Junior characters and Jake was there. Luke loved seeing him, dancing with him and began to say "Yo Ho Ho." Anytime he sees a Jake toy or Jake on T.V. he says "Yo Ho Ho." I knew since he liked this character so much this would be the perfect theme for his 2nd birthday party!
The weather the day before the party was beautiful! We were in shorts and outside all day. Today, the weather was quite different. It was very cold outside and during the party began to thunderstorm and sleet. There was ice everywhere and so I had planned for the games to be inside. I made a "Walk the Plank" game where the kids walked across a board over "water" a blue tarp, "Hook's Ring Toss" and "Cannonball Plunge" where the kids threw "cannonballs" black balloons into a basket. Before Luke opened his presents the kids also got to go on "Luke's Treasure Hunt." I had hid necklaces, gold doubloons, compasses and pirate tattoos for the kids to find! At the end of the treasure hunt they all got pirate candy!
I really enjoyed decorating for this party! We had 6 foot Jake balloons, which Luke thought were the coolest thing ever and many more balloons. The cake I made Luke, I thought turned out cute and the kids and adults seemed to enjoy it! For snacks, there were "Fish and Chips" which were potato chips and gold fish and "cannonballs" that were grapes! We of course had popcorn as well, because this is one of Luke's most favorite foods!
Luke was so excited to answer the door when people began to arrive and was super excited to open presents! He loved all the gifts he received and had such a great time at his party! We are so thankful for all our family and friends. We are truly blessed with great people in our lives and love that they were able to come to his party to celebrate his 2nd birthday even though the weather was pretty bad!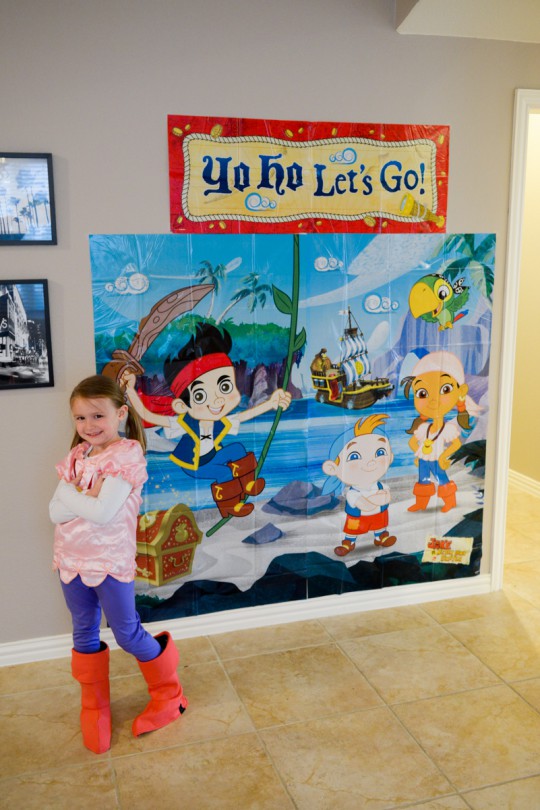 4 Comments
Leave a Comment