6 Flags Over Texas
I wanted to have a day where it would be just Brooke and I before she started Kindergarten. She had never been to six flags, so I thought taking her there for our Mother-Daughter day would be fun. We started out getting donuts and then made our way to 6 flags. I told her on the way that we were going and she had no clue what I was talking about. The whole car ride she was on the lookout for 6 flags. She saw lots of 2 flags and 3 flags. It was so cute!
When we got there she was so excited and I couldn't wait to spend the day with my girl simply having fun and riding what she wanted ride. She was tall enough to ride everything except the big roller coasters. We rode the mine trains, the swings, the sombrero, the ship, the log ride, and lots more. On the roller coasters, she always wanted to sit in the front row. I love this, because that is exactly how I was and am! My favorites that I got to take her on was the Judge Roy Scream and the Shock Wave. I was nervous about the shock wave because to me it's a big roller coaster but she was tall enough so I convinced her to try it at least once!
We rode the shock wave and she did great. I was nervous because she is my little girl and going on a big roller coaster was kinda crazy to me, I mean she could fall out, or at least that was my silly fear. After the ride she said, that wasn't too bad. While we were there she played a game and won a Wonder Woman Cape. She thought this was so cool and couldn't wait to show her Daddy. My girl and I had the best time, laughed, hung out and simply enjoyed our time together. After being there all day, and I mean from 10 am -7 pm, we ended our day with a Pink Thing, which she loved and then went out to eat together at her choice of restaurant, Olive Garden. I loved my day with her and sure am going to miss her during the day!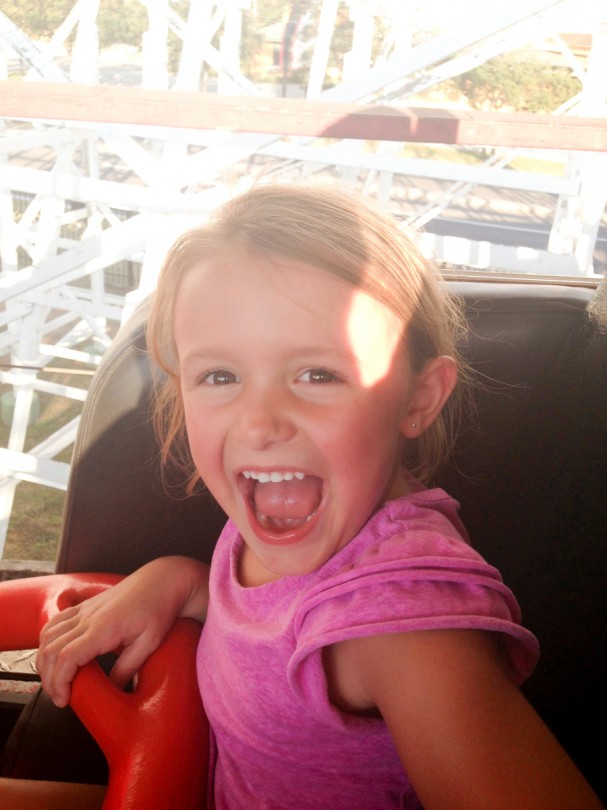 No Comments
Leave a Comment