Brooke is 6!
My sweet baby girl turns 6 today and each year I say WOW, time has sure gone by fast. For some reason going from 5 to 6 is such a big transition for me. She now has to hold up one other finger on the other hand to tell how old she is. I know that sounds silly but it just seems like 6 is so much older than 5. This year Brooke's birthday fell on a Monday, which is the day I had her in 2008. I remember that day so clearly and could not wait to see and hold my sweet baby girl for the first time. That day was such a special day and she has been so special to us each and every day since then!
This year for her birthday, she had to go to school. I still can't believe she in in kindergarten and has to go to school 5 days a week, all day! It' s just another sign she is getting older and growing up! She was excited about going to school on her birthday and telling all her friends. Before she left for school, she woke up to streamers and birthday signs in her room and then we sang her Happy Birthday with a candle in a doughnut cake I made her! Later that day. Brandon, Luke and I went up to her school for lunch and brought her McDonald's that she requested!
After school she said that they sung Happy Birthday to her and that she got a sticker and her name announced over the announcements. That night we went to dinner at her choice of restaurant, Olive Garden with Nana, Grandma and Allison. She got several gifts from them and said she had a great birthday! In a few days we will have her roller skating party to celebrate with her friends!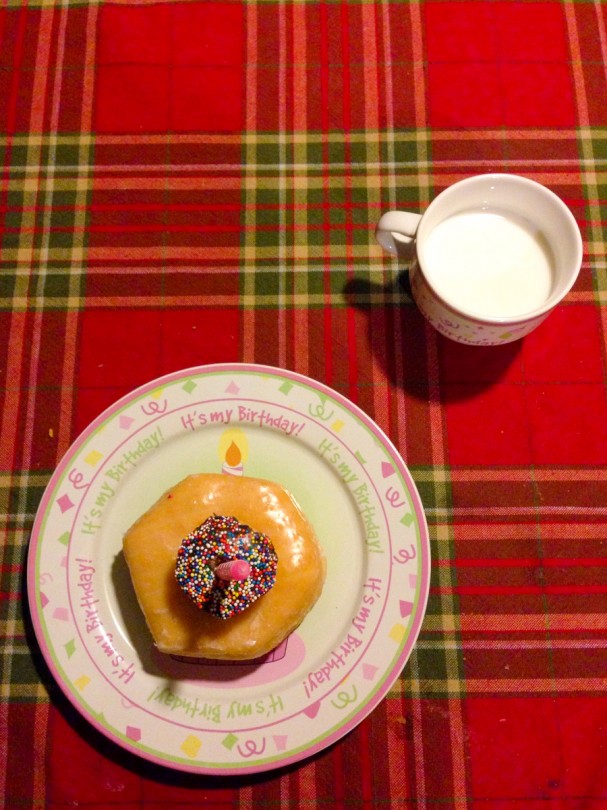 Dear Brooke,
Oh my sweet girl, I think I could just hug and kiss you all day, every day! You mean so much to me and I love you so very much! Today you are turning 6 years old. I am not really good with change and you going from 5 to 6 has been kind of hard for me. I remember the day you were born and cherish that day so dearly. You have always been such a sweet girl and today is no different. You are a sweet 6 year old who loves people, animals and everything around you. Your tender heart teaches me and reminds me daily of how I am suppose to love and I thank you for that. The Lord uses you daily to teach me things and I am so very thankful for your sweet and kind spirit! You are now in kindergarten and at first you weren't too excited about it. You would come home and tell me that you cried at school because you missed me. This broke my heart but also made me smile because I was the same, I missed you so much as well. You still miss me, which I think is so very sweet and I miss you being at home with me too. You really do love being at school though, to play with your friends and learn new things. You are so smart and have really learned a lot already! You are reading so well and have already passed the level you are suppose to be at, at the end of the school year. Mommy loves to come up to your school to eat lunch with you and help your class out when I can. Seeing you during the day always puts a smile on my face. As always, I like to write things that you are doing right now and things that I love about you, so here are some (not all) things that make you my sweet Brooke Marie Jean Krauska:
You love life, you are always smiling and see the best in everyone and everything around you
You are so sweet and love to give mommy hugs and kisses
I love that you truly love your brother and give him hugs and kisses without me asking you to
You and Luke play so well together (most of the time)
You love to play soccer and really love it when Daddy plays with you
Your favorite food is Mexican and Alfredo pasta
You love all animals but right now you really love cats, especially our cat Mowy
You still love to snuggle with me and ask me to come snuggle with you at least once a week if not more!
I love that you tell me that I can come sleep in your bed if Daddy is snoring, which does happen on occasion!
I love waking up a few minutes early just to crawl in bed with you before you have to go to school.
I love that you are trying your hardest to learn new things and that you have a desire to learn.
You are honest. I love this quality about you!
You love to read and love that you can spell and read all sorts of words
I love that when I ask you, How did you get to be so beautiful, you answer with "because God made me"
I love that you ask to pray, that you ask questions about Jesus and that you love to go to church
There is so much I love about you but one of the things I love most is that you are MY DAUGHTER and I am truly blessed by that!
You truly are a sweet sweet girl and I hope and pray that your spirit is never broken and that you continue each and every day with a positive attitude and strive to be best girl God created you to be. You mean the world to me baby girl and I am so very proud of you. I hope you have a fabulous year being 6 years old. I love you so very much!
Mommy
No Comments
Leave a Comment