Cape Town – More Exploring!
We woke up at 9:00am Cape Town time, which meant we slept for 12 hours because we went to bed at 9pm the night before. I guess we were really tired! We got ready for the day and went down stairs to eat breakfast that was included in our hotel stay. They had fruit, bread and cheese and also hot breakfast items you could order. Brandon ordered a bacon, cheese and avocado omelet. I had bacon and beans. Our breakfast was delicious and I am beginning to really like parts of a typical English breakfast!
We then drove over to the waterfront to exchange some money, because we still hadn't had a chance to do that. Their money is called Rand and it is such beautiful money. We will have to bring some home to show the kids because it is just so pretty and different! While we were at the Waterfront, we grabbed a bread stick from a local bakery, VoVo Telo. We then drove down to Boulder's Beach which is about an hour away, to see the penguins. You aren't allowed to touch the penguins, which can be a tough because some get really close to you, but I followed the ruled here! It was so neat to see penguins in their natural environment and without a tag on their flipper.
We then went up to Simon's Town, just a few miles miles up the road to eat lunch. We ate at Saveur Restaurant and sat outside to view the water. Brandon had the burger and I had the prime steak on a open ciabatta. We saw that a storm was coming so we moved inside and had dessert. It began to pour down rain, so we moved in at a good time! Brandon had Mississippi Mud Pie for dessert and I had Creme Brulee. While we were in Simon's Town, we stopped by another shark place to see if they had any trips going out the next Sunday we would be back. They told us no, but had a sister company 2 and half hours away that was spotting sharks. So we signed up and had a trip planned to see sharks when we would come back after the safari!
Even though it was still raining, we drove down to the Cape of Good Hope. The drive was beautiful and we of course had to get out to see the ocean, rocks and snap a few pictures. We got soaked taking pictures but it was completely worth it! While we were there, I grabbed a couple of rocks to take home from The Cape of Good Hope. Once we got done at the Cape of Good Hope, we drove back to the Waterfront in Cape Town to shop and eat. We bought a couple of things and then ate dinner at Quay Four. Brandon got the double burger and I got the fish and chips. WE then went back to the hotel, walked down the street to get dessert, but they were closed, so we just came back to the hotel, called the kids and went to bed! We had such a fabulous day even in the rain!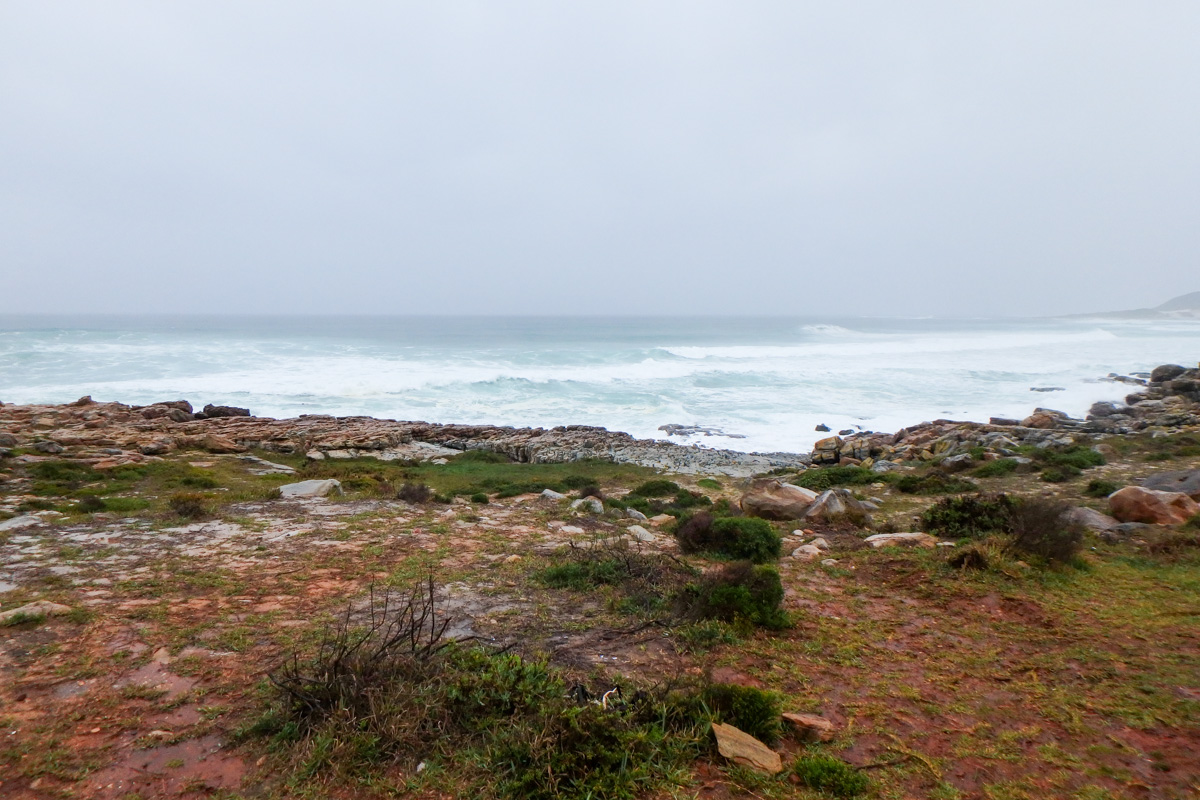 No Comments
Leave a Comment